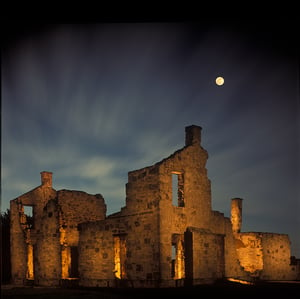 $

250.00
Photography Workshop - October 15, 2016
Press Release:
Oct. 15th, 2016 - Wyman Meinzer, the Official State Photographer of Texas, will lead a Night Photography expedition at the historic site of Fort Richardson located in Jacksboro, Texas.
Sponsored by the Friends of Fort Richardson the event will begin at 6 p.m with a meet-and-greet session at the main office. Participants will learn about the application of "painting with an artificial light", or, given a full moon, utilizing moonlight to take photographs. Meinzer will focus on the structures within the park such as the Guardhouse Ruins and the Magazine which was used to store explosives and black powder.
To ensure personalized attention, the class is limited to 15.
Price of workshop includes dinner and drinks.
The Fort was established in 1867 and closed in 1878. During the post's 11 years of active military existence it was home to more then 5,000 United States Army soldiers and headquarters for Mackenzie's 4th Cavalry regiment.
Plan to spend the weekend at the park and enjoy camping, picnicking, fishing and take a stroll down one of their many hiking trails. There are also several shopping and eating establishments in Jacksboro. Campsites with Sewer, Electric and Water are available and there are limited cabins available with same.
To learn about camping options call 940-567-3506
Cost of workshop- $250.00/per participant
If you wish to participate, please pay your non-refundable deposit by clicking on the link below. Payments for the workshop will not be taken by the park. Balance will be due during event registration. (Fee for entrance to park is not included)
**Here are a few helpful suggestions for gaining the most from the Night Photography application.**
1. Know how to adjust your camera's basic settings.
2. Participants should know how to set their shutter speed and adjust the aperture settings manually.
3. Become familiar with how to adjust your ISO, white balance, and operate your shutter release cable or remote.
4. You will need a sturdy Tripod for long exposures!
Equipment needed for Night Photography Adventure:
Wide Angle Lens with zoom (28-80)
Camera with "bulb setting"
Durable and Very Sturdy Tripod
Cable release for your camera-a must have
Headlamp or flashlight
Warm Clothing
Waterproof poncho