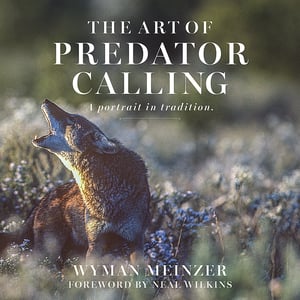 $

75.00
On a cool afternoon in October 1965, a friend and I maneuvered the ranch pickup to a distant hilltop on the ranch where I grew up, in the Texas Rolling Plains. A recent autumn rain across the badlands made driving a mindful effort, but we made it to our predetermined spot and ascended the hill for a 15-minute interlude with the homemade wooden predator call I had recently acquired through my girlfriend, who "borrowed" one from her dad's collection.
After a few minutes of exuding a series of very sour notes, two coyotes were observed shuffling about below us before departing posthaste, having detecting our location, aided by a sketchy, shifting breeze. Following that memorable experience, I became totally enamored with calling wild creatures and began a relentless regime of practice in hopes of refining my technique, whether in the house or outside, much to the displeasure of my mother.
In time my endeavors became a bit more polished, with calling results becoming significantly more consistent — further elevating my interest in this basic art form, one dating back to perhaps ancient times. As with so many youthful outdoorsmen and women, the main objective for the use of this crude wooden instrument was to attract predators within effective gun range, and for over two decades my tool of choice was an accurate rifle topped with fine optics.
In 1969, upon enrolling at Texas Tech University, I became convinced that writing a book about calling would be a worthy contribution to the sporting audience, but after scribbling some 12 pages, it became glaringly obvious I was not ready for such an undertaking. My experience level was substandard, and I needed more experience afield. So, the book idea was placed on the back burner, although not as a forgotten effort, and remained as such for the subsequent 53 years.
As the case may be with many individuals, my calling ventures gradually focused more on an educational and visual level, beginning with scientific research on coyote feeding behavior during a two-year period as a student in the Range and Wildlife Department at Texas Tech. Realizing the importance of maintaining accurate field data, this endeavor established a pattern that I have maintained through decades of calling, and one which has revealed insight into the predators' life ways in a context perhaps never before established.
With nearly 60 years of calling experience — and over 40 of that with a camera in hand — I felt that the time had come to share some insight into an outdoor challenge, if not a rather primitive art form, that has defined my life path since a young boy of 14. The time has come for this book to be written and published.
This is not a publication highlighting the killing of creatures, although research and subsequent data could not have been collected without harvesting many animals over time. This guide shows you how to indulge in one of the purest forms of viewing wild predators that I have known after these many decades afield.
Whether your purpose is simple viewing, scientific documentation or an intent of sport hunting, the written word and imagery within these pages reveal the life way and visual aesthetics that have kept me enamored with predator behavior for almost a lifetime.
Book Size: 12" X 12"
Book Pages: 196